Custom Search
Bathroom Flooring Should be Practical and Comfortable
About Hardwood Floor Decor and Care
Flooring Choices for the Bathroom Bathroom flooring
Bathroom flooring choices for the bathroom, range from the sublime to the practical...
In recent years, there has been a tendency to go with the latest (and not necessarily most practical) style trend that top designers come up with.  Case in point - grey hardwood flooring everywhere we look.
We love the idea of hardwood - yes, we really do!  There is no speck of carpet in our house and never will be; but that doesn't mean I would ever go all out and installed hardwood flooring in every single area here.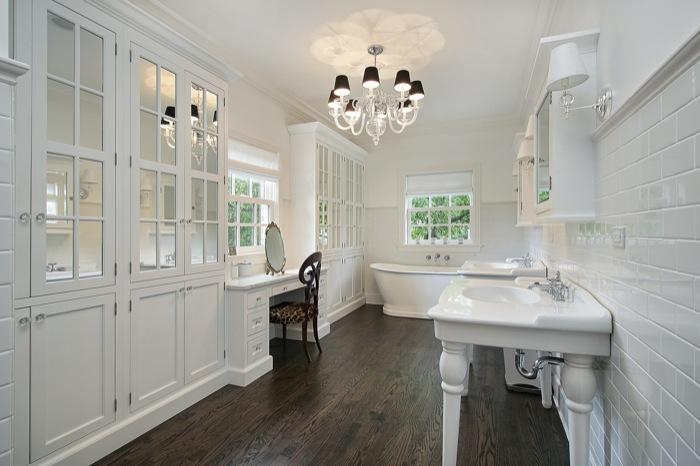 You can, of course!  It will be always up to you what goes underfoot in your house.  However, before deciding, you really need to consider your lifestyle and the flooring choices available to you.  You can achieve pretty much any-look you want in your home, including your bathrooms, using materials appropriate for those specific spaces. 

Carpets in the bathroom can offer warmth to those stepping out of the shower or bath, but carpeting in the bathroom has some disadvantages as well. 
The bathroom carpeting can retain the water that might leak out of the shower or bath. The carpeting in the bathroom probably will not last as long as ceramic tiles or marble.

Marble flooring will last for many years, but if you choose a wrong finish, it might be slippery and dangerous when wet. This type of flooring is beautiful and easy to wipe up with some cleansers and water; just be sure to pick a finish that offers some grip.

Hardwood flooring in the bathroom will last for many years as long as it is cared for properly. This type of flooring is beautiful and blends in with many types of decor.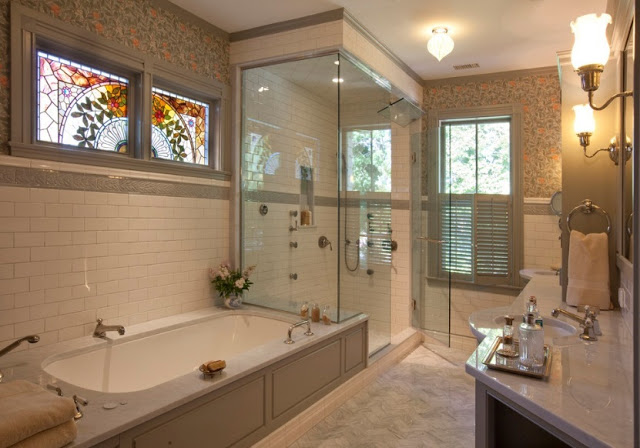 Be sure to use water-resistant species for your bathroom flooring choices, perhaps varieties that are a bit more exotic like Jattoba (Brazilian Cherry), Cork, Bamboo(*) flooring, Ebony, etc.
It is recommended that you choose hard-surface-stone flooring for those bathrooms in your house, that will be used most often.  If your heart is set on hardwood flooring in the bathroom - save that for a rarely used guests bathroom.
Hardwood for your bathroom flooring demands persistent upkeep.  You can't just leave a puddle of water on your floor, because you rushed out the door in the morning. If you do, that would will get damaged, swollen, the finish may peel.  You just don't want that - so if you must have hardwood in the bathroom - leave it for your beautiful guest space. 
| | |
| --- | --- |
| To make it easy for your guests, to clean up the spills when they happen (yes, those water spills and splashes must be taken care of immediately and not in few hours) - have a clean cloth under the sink for clean up and make sure your guests know it's there.  | |
There is also laminate flooring that is durable and relatively easy to care for in a bathroom. Laminate can come in many different styles that will enhance the decor in a bathroom. Both laminate and hardwood floors can be slippery which could add danger to the bathroom, and these two types of flooring might suffer from water spills or leaks more than other types of flooring.
*we make a health - concise call not to install ANY type of Bamboo flooring as it is very harmful to the installers, and the environment. 
---
Return to Home Page