Custom Search
Hardwood Floor Care 
About Hardwood Floor Decor and Care
Easy Steps for Cleaning Hardwood Floors
Hardwood Floor Care can be quite easy if you
DO: 
Wipe up spills immediately  

Hardwood flooring Barrie

Vacuum your hardwood at least once a week (use soft brush attachment) 

hardwood floor care

Always place doormats (outside and inside for added protection)

Remember to use them 

Remove outdoor shoes if possible

Use area rugs and runners on floors in the high traffic areas like kitchens, and dinning areas

Keep the nails of your pets trimmed at all times.  

Try avoiding large and very active dog breads if you love the look of beautiful hardwood (regretfully you can't have both)

Never roll heavy appliances directly on your hardwood

Use felt furniture pads on all chairs, tables, sofas, and other furniture

Make sure that the relative humidity inside your house is kept between 35% and 50% (check with your flooring manufacturer for specific range for your chosen flooring species installed in your Climate)

Try to protect your hardwood from direct sunlight, use window shades with UV protectors.
Here is a fact for you: 
hardwood floor care
Your large dog WILL damage your floor, not much you can do about it; but if you know that from day one, you will know what to expect.  If you really love the look of hardwood and have a beloved pet that will be using those hardwood floors along with the rest of your family, just be sure to select a lower grade of wood, with imperfections, so the scratches that your puppy makes will only add to the character of the wood.  
---
DON'T:  
Hardwood flooring Barrie
Use products containing ammonia, any acrylic based cleaners or finishes, wax based polish, simple detergents, never, ever use bleach, stay way from oil based soaps and products with high acidic content like vinegar or lemon juice.

NEVER use Steam Mops to clean your hardwood or laminate floors -

more about this here

.

Never, ever use cleaning products that are not intended for hardwood

Never ever wash your floors with a soaking wet mop (Wipe all water and liquid spills immediately and never allow water to sit on your hardwood)  

hardwood floor care

Wear spike heels or narrow high heels on your floors

Use rubber mats under your carpets as those will trap moisture and damage the floor.  Some will also get stuck to the flooring

Use any vacuum attachment other than soft bristle brush
How should you clean your hardwood? 
Make sure to vacuum once a week or more often if needed.  You can also use dry flooring mops and microfiber cleaning pads for dusting between vacuuming.
Once your floor is clean of any dust, dirt, sand, etc.  You can use hardwood flooring cleaners especially formulated for your specific hardwood species and the finish that was applied to your floor. 
Please remember that some of those cleaners will leave a dull residue that you will need to polish off with a dry, soft towel or clean, dry, microfiber mop.  hardwood floor care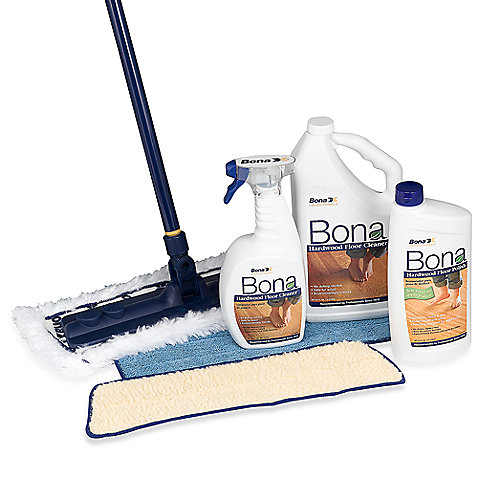 Above Bona Floor Cleaner system is available here
A little side note on the use of vinegar and water...
Hardwood flooring Barrie
It is never recommended to clean your hardwood flooring in a traditional way with a mop and bucket filled with soapy water.  That WILL damage your wood floor beyond repair.  Hardwood flooring Barrie
Flooring Companies (including ourselves) are very careful on the advice they choose to give on the very popular hardwood floor cleaning method of using vinegar and water.  
Why?   hardwood floor care
Because we can not exactly specify how much water or vinegar can safely bu used on your floors.  
If you choose to use this environmentally friendly method, you will need to understand that if you do it wrong, you will damage your wood.  
What we've been doing at our house, is to use a clean, cotton towel that we wet in the solution of lukewarm water and small amount of vinegar first, then we wring that towel dry.  Wring dry means twist and squeeze until there is no water left in the towel.  A woman will most likely not have enough strength in her arms to do this property (I'm sorry ladies, I do not intend to be sexist here, I'm just stating the fact).  I, myself can not wring it dry enough.  
You want that towel to be very slightly cold with moisture. "Almost dry" if you please. 
You use that to first work on any areas with visible stains.   Then you rinse the towel and wring it out dry again.  (Same as above, "almost dry" is an absolute must). Then you can wipe the entire floor with this almost dry towel to finish up.  
---
PLEASE!  
Don't ever use the Swiffer Wetjet
for hardwood flooring care!  
---
Hardwood Floor Care Tips
Tracked-in dirt and wet spills
Spots Caused by Water, Animals or Wet Food
Wipe immediately 

Dry the area (you may want to use a fan)

Clean as described above 

Continue to monitor the moisture levels and wood condition for any warping.
Rubber Heel Scuffs, 
Crayon Marks 
Sticky Messes like Candle Wax or 
Chewing Gum
Place ice cubes in a Ziploc bag, close the bag so there are no leaks and place it on top of the affected area. 

Wait for the wax or gum becomes hard enough to chip off. 

After all of the wax or gum has been removed, clean the area as described above. 
Minor scuffs and scratches

For minor scratches and scuff marks on your hardwood floors, the area can be refreshed by a hardwood flooring professional, with a buffing-re-coat.   Call us to schedule an estimate for this service at 705-721-1082 or book one here.
Deep Gouges and Heavy Scratches
For major scratches and gouges on your hardwood floors, the damaged floor boards can be replaced or refinished by a hardwood flooring professional, dustless floor refinishing process.  Call us to schedule an estimate for this service at 705-721-1082 or book one here.
---
Return to Home Page