Custom Search
Dustless Sanding to Restore your 
PAINTED COTTAGE FLOORS
Painted Cottage Floor
About Hardwood Floor Decor and Care
Gerber Hardwood Flooring now offers DUSTLESS FLOOR SANDING
Your Cottage, your refuge from the daily grind of life. You come here and the weight is lifted of your shoulders, the fresh air, call of the loon in the distance, that view of the lake and feel of soft sand on your feet in the lake... And then you come to your cottage door and you step in.
Painted Cottage Floor
| | |
| --- | --- |
| | And there it is: your painted cottage floor. Grimy and not so nice any more, but year after year you just live through the summer, without looking at that painted floor. How on earth can this be fixed? Easy, you can create a rustic feel in your cottage, just by changing the look of your cottage floors. |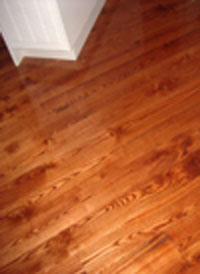 You would need to remove all the furniture, and books and all other treasures that found it's way up here, then you would need to sand that old paint (better rent the sander, it's too big of a job, for hand sanding) and then you need to choose the color, buy the paint (make sure it's the right kind) and... oooh... paint it. There goes my summer... you think.
Since the furniture must be moved anyway, why not restore that gorgeous, old wood floor to its original beauty that is now hiding under all those layers of paint? Someone would need to come in and sand it, and stain it and... varnish it.
All the mess, the dust, the hustle to bring your painted cottage floor to it's original glory. Summer should be for relaxing and not for floor repairs!

---
BEFORE THE SANDING PROCESS OF OLD PAINTED COTTAGE FLOOR
Several coats of paint were applied to this pine floor over the years, not it was time to bring back the old beauty of the natural wood from underneath all those layers. 
---
DURING SANDING PROCESS
During the sanding process the layers of old paint are stripped and the bare wood is revealed. 
---
AFTER SANDING PROCESS
After the old pain is removed, the wood floors are buffed, then several layers of clear varnish is applied. 
---
About Hardwood Floor Decor and Care
You are right! Summer is for that, but early spring; when snow is still on the ground and you are back in the city working hard and dreaming of your summer getaways to the cottage; is just perfect to restore your cottage floors!
Better news still, it can be done without the dust cloud!  
With powerful dust containment systems available to flooring companies nowadays, your cottage floor refinishing process can be painless, relatively fast and DUST FREE!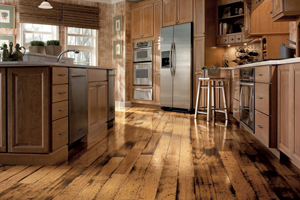 You don't even have to be there, unless you really want to. If you really want to bring out the rustic feel of your cottage floors, you will consider sanding and refinishing instead of painting again. After all not everything looks better with a new coat of paint. Gorgeous hardwood floor is one of those things that look just spectacular without it...
So this summer, you can come in your cottage door and be amazed to see what you were dreaming of for all those years your beautiful restored cottage floor, or you can again, come in and... look at the grime and scratches that just don't want to go away.

So before you started planning your next cottage family reunion, take a moment to make the decision that this year, is the year of the cottage floor project. Do it for you, do it for your family, do it for your cottage.
---
Return to Painted Cottage Floors 
---
Return to Home Page