Custom Search
Custom Stain Colors from Gerber Hardwood Flooring
About Hardwood Floor Decor and Care
Why would you need custom stain colors?
custom stain colors
When you searched high and low, and what you need for your new floor is just not available... Perfect opportunity to choose a custom stain! Here you can be vary precise and get exactly what you need.

Choosing custom stain colors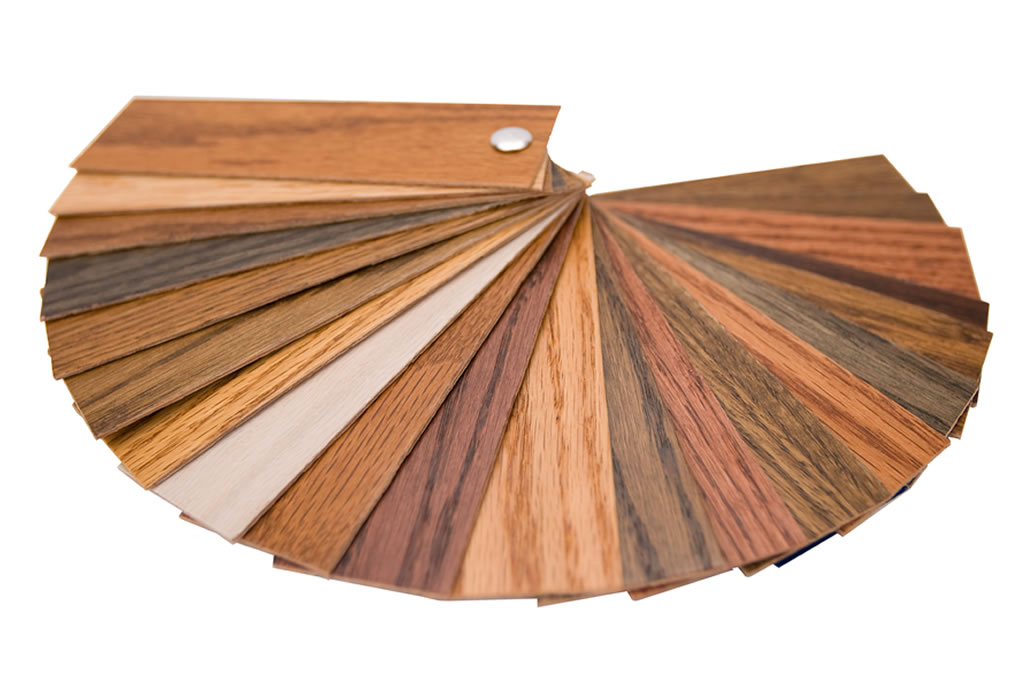 If you love the richness of dark wood, but brown and ebony available on the market are not exactly what you had in mind... or if you need just a touch of red with that perfect brown, and it's not in any of the stores. 

R...E...L...A...X... We can help!
Stain Brands We Use
Over the years, we have worked with different brands of varnishes, conditioners and stains. All products we use in your home, have been tested in ours. We are very specific about the choices we make. We look for ease of use, drying time, low VOC's, durability, resistance to fading, longevity and of course the selection of colors and sheen levels. Bona and Duraseal are the only two brands that we are comfortable using in you home. On rare occasion we also work with Benjamin Moore® colors if our Client has that preference.

Choosing process
We usually determine the best stain color to suite the Client's lifestyle, and their existing décor during our initial visit at the Client's house.  During that first conversation, the Clients usually share their vision with us.  From there, together we determine the direction the project should take.  

We consider the existing wood elements in the house: like the kitchen cabinets, staircase and railings, doors and window frames.  It's best to keep the custom stains (existing and new) in the same color family.  You are safe with up to three wood colors in one space as long as they are from the same color family and they different only by saturation.  
It really is not complicated on the Client's side - they do enjoy the creative process. 
Technically speaking 
What's complicated, is the actual stain mixing process.  Or, I should say: time-consuming. 
On occasion, we are working with an existing floor color that was originally custom mixed and the Client doesn't know what stains were used in the first place. This takes time, effort and skill. It's a long and detailed process and often it takes weeks to come up with the right color match.  
The most difficult colors to much are the new grey colors, especially the ones with cool undertones.  Depending on the existing wood species installed in your home, it can be impossible to come up with a color that you are looking for. 
Any projects requiring custom mixing of stains (mixing any two or more of the above colors to create a new color to much an existing wood) will be subject to additional charges and/or consultation fees.

Bona Stains
Bona Metropolitan Stain Collection
The Metropolitan Collection is comprised of saturated reds, smoky browns, grays and rich, chocolaty black. Each color captures an urban vibe that's just right for today's sophisticate.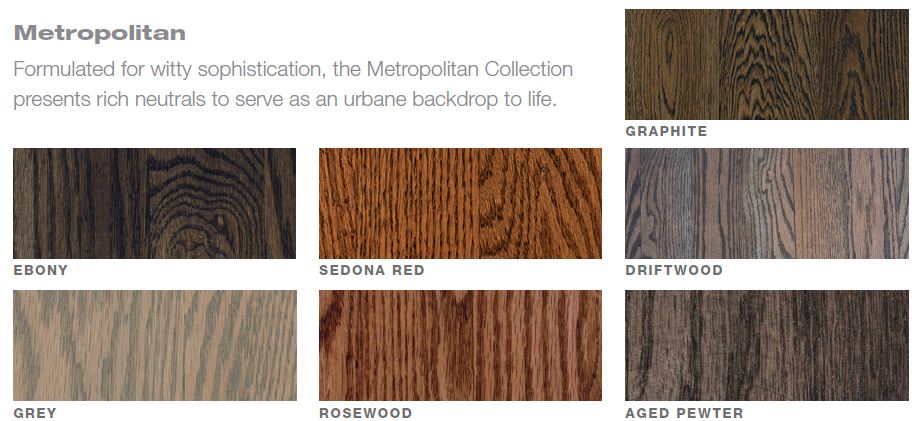 Bona Classic Stain Collection
The Classic Collection is a rich presentation of authentic browns and rich auburns that compliment the heritage of traditional design. This exemplary palette has its roots in the natural appeal of hardwoods.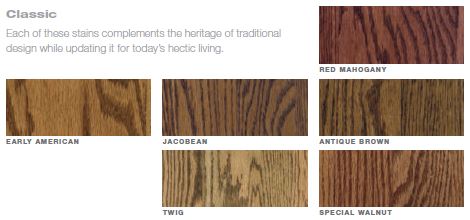 Bona Essentials Stain Collection
The Essentials Collection is comprised of warm ambers and hints of exotic spices that transport this palette across varied design styles. Find just the right shade for your particular paradise.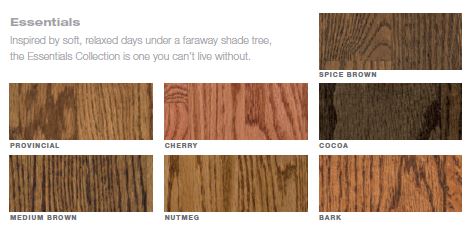 Bona Naturals Stain Collection
The Naturals Collection is subtle and soft with light tones mixed with warm whites. This easy, breezy collection blends right in with your everyday, everyway living.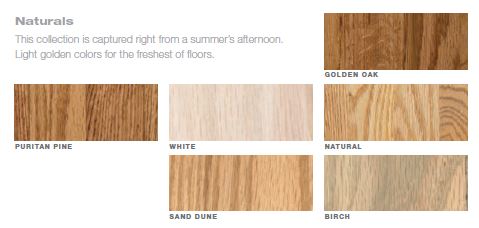 DuraSeal Stain Choices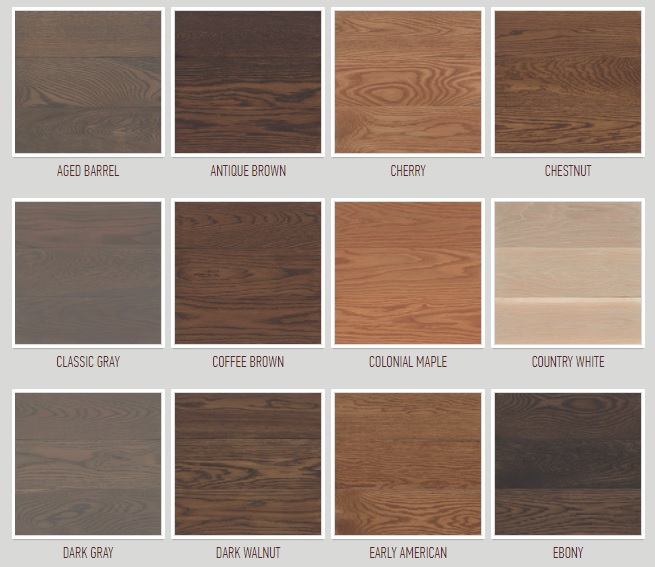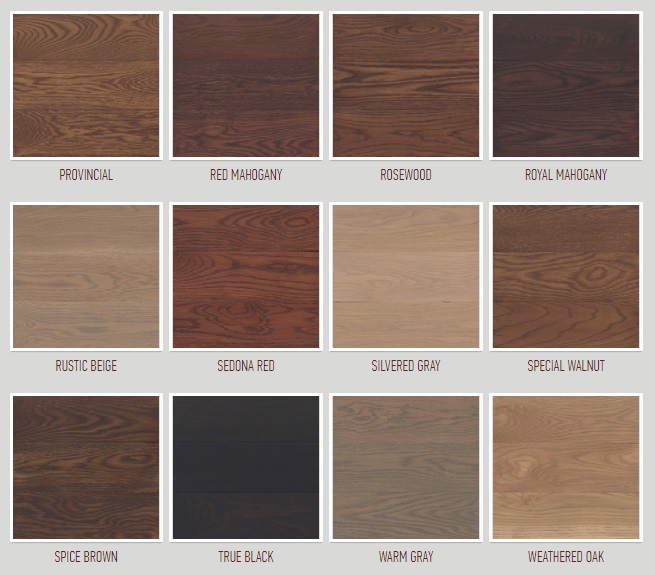 Older Stain Colours from DuraSeal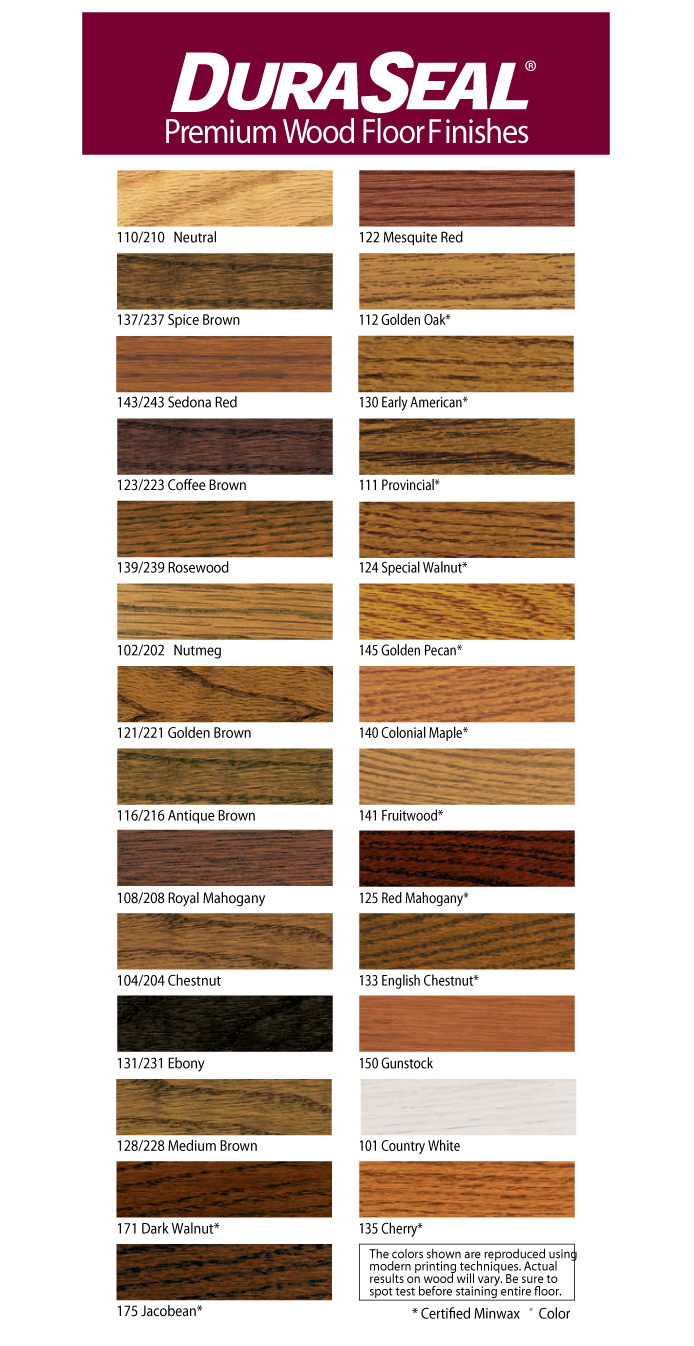 Any of the above stain choices are available for application, we do need to know what family of colors you like relatively early in the process.  We do not stock ALL 26 colors, and sometimes they maybe out of stock at our Toronto suppliers.  The earlier you decide on your color choices, the better.  
If you are not sure about color decisions that you need to make, feel free to contact our Interior Decorator, she will be happy to answer your questions and help you with any dilemmas you may come across.

---
Return to Home Page